At Salem United Methodist Church, everyone is welcome.
We believe everyone is a beloved child of God.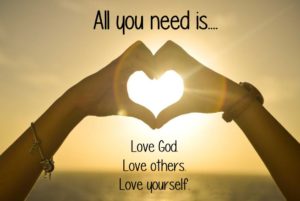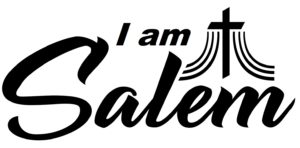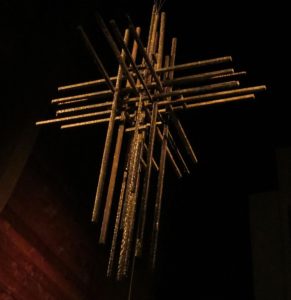 WELCOME TO SALEM!
Sunday Service: 9 am
We are a people of Biblical faith. Our faith is guided by Scripture, tradition, experience and reason. For United Methodists, the Bible is the record of God's people living out God's promise. Join us on Sunday mornings for music, scripture readings and a message on today's topics.
We are located at 541 Hwy 59 in Waukesha, Wisconsin.
HAPPENING THIS MONTH
September 8:
Food Pantry Sunday
September 14: Men's Fellowship Group breakfast at Perkins
September 26: Women in the Middle
Wednesday Nights: Handbells 6:30 pm
Choir 7:30 pm
Thursdays: Bible Study 7:30 am
Knitting Ministry 10 am
Connect with us on our social platforms. Stay in tuned with our latest facebook posts.
Give us a call at 262-547-5231.
Send an e-mail to office@salemonthehill.org
Salem is on Instagram! You can follow us at @salemonthehill.
Vacation Bible School 2019
Camp Out
Got Jesus? Get S'more!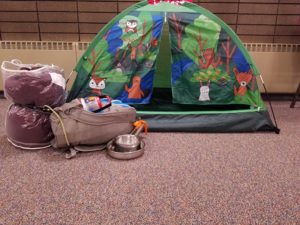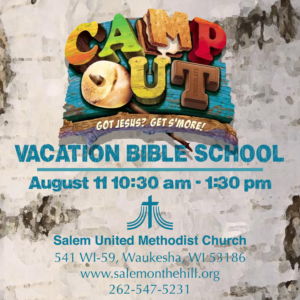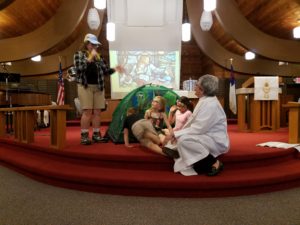 August 11, 2019: Camp Out Vacation Bible School
One day only, Sunday August 11
Thank you to all of our volunteers who helped our VBS campers with Camp Out Vacation Bible School.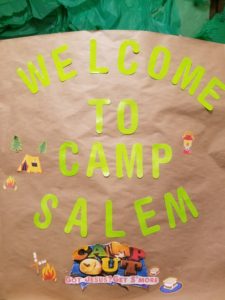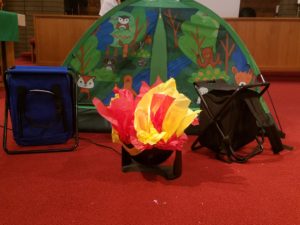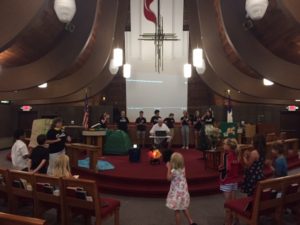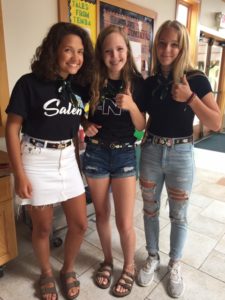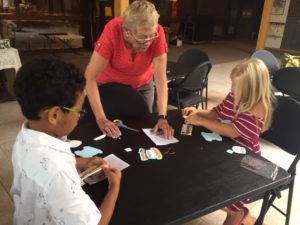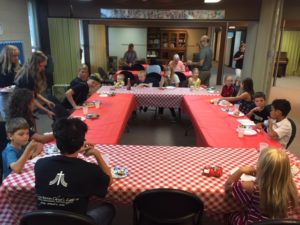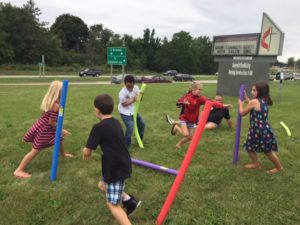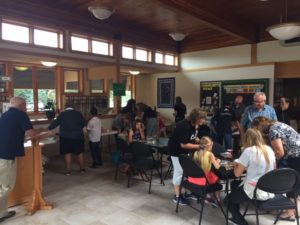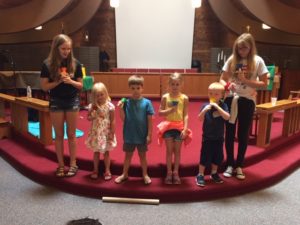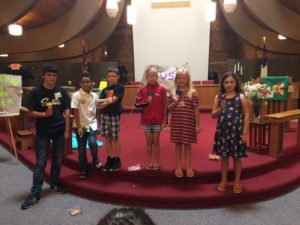 Reverend Paola Benecchi, Pastor
Come and worship with us and invite family and friends to come with you!
Salem shines Christ's light
Join us during the month of August as we receive Salem's new mission statement. Every Sunday we will have a small gift for everyone in worship to remind us of a portion of our mission. Don't miss it!!
August 4 (Communion) Matthew 5:13-16 Salem shines Christ's light of hope and compassion…Inviting all to…….
Grow August 11 John 15:1-4
Connect August 19 John 15:5-8
Serve August 25 John 13:1-17
All you need is….
We need love to live. Love is the most powerful, transforming force ever known. Nevertheless, being compassionate and loving is often a challenge. Jesus, who was the most compassionate and loving person who ever existed, reminds us that love is a lot more than a feeling: it is a way of life, a commandment, a choice we need to make every day.
September 1 (Communion) Love the Lord your God with all your heart How can I love God? Mark 12:28-30; Mark 12:41-44
September 8 Love your neighbor (part 1) How can we learn to love others the way they need to be loved? Luke 15:11-31
September 15 Love your neighbor (part 2) How can I have the courage to be compassionate? Luke 10:25-37
September 22 Love yourself Why do I sometimes feel like I am all out of love? Luke 19:1-10
September 29 Love your enemy How can I love the unlovable? Luke 19:1-10