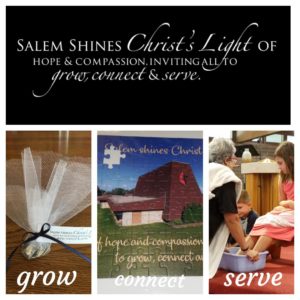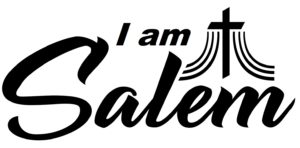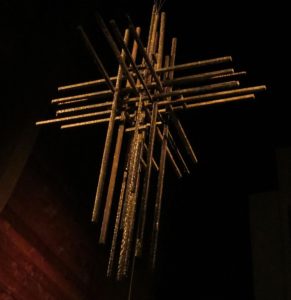 WELCOME TO SALEM!
Sunday Service: please click on the link below for a recorded version of our current worship service.
We are a people of Biblical faith. Our faith is guided by Scripture, tradition, experience and reason. For United Methodists, the Bible is the record of God's people living out God's promise. Join us on Sunday mornings for music, scripture readings and a message on today's topics.
We are located at 541 Hwy 59 in Waukesha, Wisconsin.
HAPPENING THIS MONTH
Church services are held Sunday mornings at 9:00 am.
April 2 Palm Sunday Pie sale for Mujila Falls following Church Service
April 7 Good Friday service 7 pm
April 9 Easter Sunday!
April 19 Chapel service at New Perspective
May 14 Praise Fest
May 21 Confirmation Sunday
Tuesday Nights: Dartball 7 pm
Wednesday Nights:
6:30 pm Handbells
7:30 pm Choir
Thursdays 10 am Knitting Ministry
Thursday Nights: Zoom Bible Study 6:30pm. Contact the Church for information to join us!
SUPPORT OUR MINISTRIES
Click here
to see how to donate to Salem United Methodist Church
Our annual Fund-raiser for Mujila Falls Agricultural Center in Zambia, Africa will be held April 2nd. Mujila Falls teaches others to help themselves by educating people about raising animals and many types of crops. In the last two years, our church raised enough money to build a small dormitory for those wanting to stay short term to learn about farming. We also supplied money to furnish the dorm, called Salem House, in our honor. This year we are raising funds to plant an orchard of fruit trees around the dorm and other new buildings at Mujila Falls. Attend our service, with a zoom call to the missionary included, make a donation, and receive a slice of pie!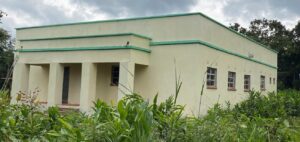 We are open for live services!
A link to a recording of our current service is below.
You can find past sermons by visiting YouTube. We also invite you to visit our facebook page. Please contact the church via e-mail (pastor@salemonthehill.org) with prayer requests.
If you missed our live service, join us in worship by clicking the link below.
We pray that you find something in this service that will speak to you.
May this service connect us in love, joy and hope.
Reverend Paola Benecchi, Pastor
Come and worship with us and invite family and friends to come with you!
Visit our YouTube page for our sermons
GOOD GRIEF!!! The Season of Lent
Very truly I tell you, unless a kernel of wheat falls to the ground and dies, it remains only a single seed. But if it dies, it produces many seeds. John 12:24
We all suffer tremendous losses during our life. Can the pain of grief become a gift of new life overtime? Let us walk with Jesus this Lent through the book of John as we discover how God brings new life out of loss and grief. Every week we will start the message
time with a personal short story of someone who experienced different kinds of loss and grief in their lives.
February 26
First week of Lent "Unless you are born again, you cannot see the kingdom" The Loss of the Person We Used to Be – John 3:1-9
https://youtu.be/9_iAv6Ol0yU
March 5th
Second week of Lent – Communion "If you drink my water you will not be thirsty again" Stuck in Loss and Pain – John 4:1-15
https://youtu.be/Y12dSsZVWUk
March 19th
Fourth week of Lent "I am the light of the world. Whoever follows me will never walk in darkness, but will have the light of life." The Loss of our Health & Autonomy – John 9:1-12
https://youtu.be/f0OctF3275Q
March 26th Fifth week of Lent "My God, my God, why have you forsaken me?" The Loss of a Vital Relationship – Matthew 27:45-46
April 2nd Palm Sunday – Communion – Temba will join us from Mujila Falls
April 7th Good Friday 7PM Way of the Cross
April 9th Easter Sunday – Communion "Woman why are you weeping?" New Life Raised from Grief – John 20:11-1
After His resurrection Jesus calls Paul to become one of the leaders of the new Christian Church. Lets' travel together with Paul to new places, and learn how we too, are called to be part of God's awesome adventure.
Sunday April 16th – Risk Taking Damascus – called and sent off Acts 9:1-19 and 13:1-3
Sunday April 23rd – New Freedom Philippi – Faith in Prison Acts 16:11-40
Sunday April 30th – Confidence Lay Speaker: Bill Pardoe Ephesus – Extraordinary Healings Act 19:1-20
Sunday May 7th Communion – Courage Malta – Storm and Shipwreck Act 27