At Salem United Methodist Church, everyone is welcome.
We believe everyone is a beloved child of God.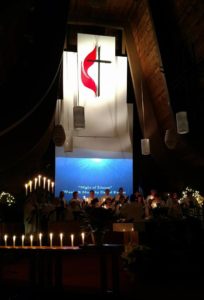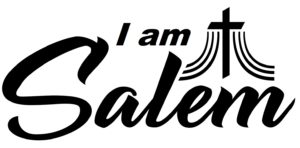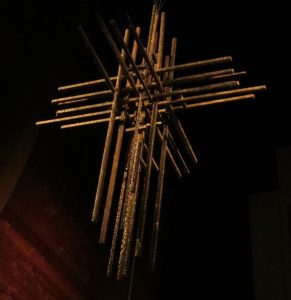 WELCOME TO SALEM!
Sunday Service: 9 am
We are a people of Biblical faith. Our faith is guided by Scripture, tradition, experience and reason. For United Methodists, the Bible is the record of God's people living out God's promise. Join us on Sunday mornings for music, scripture readings and a message on today's topics.
We are located at 541 Hwy 59 in Waukesha, Wisconsin.
HAPPENING THIS MONTH
May 2, 9 & 16: Women in the Middle
May 2, 9, 16, 23: Thursday Morning Lectionary Bible Study Group meets at The Spot 7:30 am
May 11: Men's Breakfast
May 12: Food Pantry Sunday
May 19
: Confirmation Sunday
May 26: New Member Sunday
June 1: A morning at the Mitchell Park Domes! 9:15 a.m.
June 2: Volunteer Thank You Sundae
August 11: Family Vacation Bible School
Connect with us on our social platforms. Stay in tuned with our latest facebook posts.
Give us a call at 262-547-5231.
Send an e-mail to office@salemonthehill.org
Salem is on Instagram! You can follow us at @salemonthehill.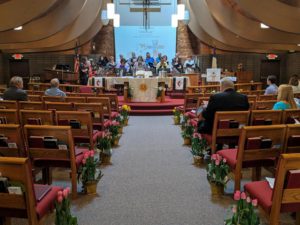 Easter 2019
Reverend Paola Benecchi, Pastor
Come and worship with us and invite family and friends to come with you!
May 5 Communion Sunday What's Next? Our denomination is divided and in turmoil around the full participation of LGBTQ persons in the church. This Sunday message will be dedicated to this issue and future in front of us. 1 Corinthians 1:10-11; 1 Corinthians 13 .
May 12
Mothers' Day –
Praisefest!
Join us as music fills the sanctuary this Sunday.
May 19 Confirmation Sunday & Communion Join us as we celebrate and welcome the youth who are getting confirmed into full membership
One of the best parts of summer is being outdoors, watching or playing games with others. The scriptures teach us about the power of teamwork, on the field and in life.
May 26 Memorial Sunday Different Roles But One Team (1 Corinthians 12:1-11)
June 2 Communion Sunday There Is No "I" in Team (1 Corinthians 12:12-31)
June 9 Pentecost One Common Goal (1 Corinthians 13)
We need love to live. Love is the most powerful, transforming force ever known. Nevertheless, being compassionate and loving is often a challenge. Jesus, who was the most compassionate and loving person ever existed, reminds us that love is a lot more than a feeling: it is a way of life, a commandment, a choice we need to re-make every day.
June 23 Love the Lord your God How can we learn to love others the way they need to be loved? Luke 15:11-31
June 30 Love your neighbor How can I have the courage to be compassionate? Luke 10:25-37
July 7 (Communion) Love yourself Why do I sometimes feel I am "all out of love"? Mark 1:32-37
July 14 Love your enemy How can I love the unlovable? – Luke 19:1-10