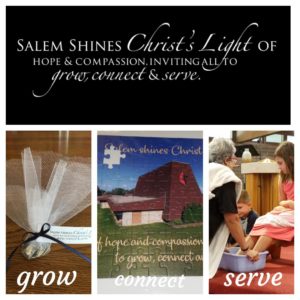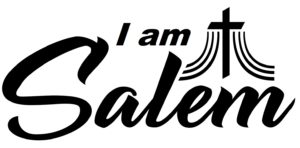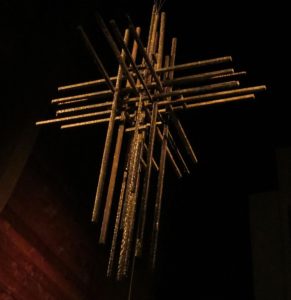 WELCOME TO SALEM!
Sunday Service: please click on the link below for our current worship service.
We are a people of Biblical faith. Our faith is guided by Scripture, tradition, experience and reason. For United Methodists, the Bible is the record of God's people living out God's promise. Join us on Sunday mornings for music, scripture readings and a message on today's topics.
We are located at 541 Hwy 59 in Waukesha, Wisconsin.
HAPPENING THIS MONTH
Regularly scheduled activities below are suspended until further notice:
Wednesday Nights: Handbells 6:30 pm
Choir 7:30 pm
Thursdays: Knitting Ministry 10 am
The Salem United Methodist Church building remains closed to the public until further notice. We continue to provide worship and other services in alternative ways.
We invite you to attend our worship service online. A link to our current service is below. You can find past sermons by visiting YouTube. We also invite you to visit our facebook page. Please contact the church via e-mail (pastor@salemonthehill.org) with prayer requests.
Please continue to support our ministries by sending your offering to Salem at
541 Hwy 59, Waukesha, WI 53186
Join us in worship by clicking the link below.
We pray that you find something in this service that will speak to you.
May this first service in Advent connect us in love, care and hope.
Reverend Paola Benecchi, Pastor
Come and worship with us and invite family and friends to come with you!
Advent and Christmas 2020
Oh Tidings of Comfort and Joy!
In the midst of troubling times this Christmas, we focus on the only story in human history that has the power to bring to us "Tidings of Comfort and Joy." Inspired by one of the oldest carols we will bring to life the story of the birth of Jesus as found in the Gospel of Luke 2:1-21.

Sunday November 29 1st Sunday in Advent. God rest you merry, gentlemen

Sunday December 6 2nd Sunday in Advent; Communion. His mother Mary, Nothing did take in scorn.

Sunday December 13 3rd Sunday in Advent. And unto certain Shepherds . . .
Live Zoom Worship at 9:00 AM
10:30-11:30 AM Salem Giving Tree at church: Drive-thru donations of Outreach giving (see article in this Tidings) with Santa,
Hot Chocolate & Cookies

Sunday December 20 4th Sunday in Advent. Fear not, then said the Angel
December 24; Christmas Eve But when to Bethlehem they came, whereas this infant lay. They found him in a manger
4:00 pm Family Service
9:00 pm Traditional candle lighting service with readings and carols

Sunday, December 27 A Service of Carols. Now to the Lord sing praises!