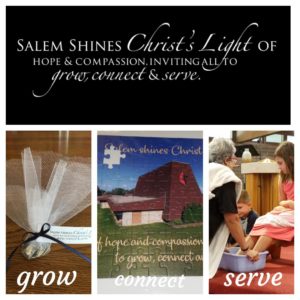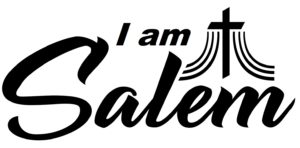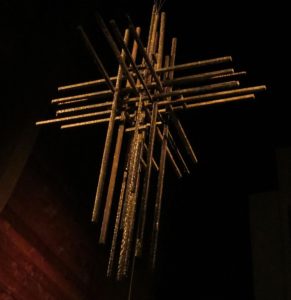 WELCOME TO SALEM!
Sunday Service: please click on the link below for a recorded version of our current worship service.
We are a people of Biblical faith. Our faith is guided by Scripture, tradition, experience and reason. For United Methodists, the Bible is the record of God's people living out God's promise. Join us on Sunday mornings for music, scripture readings and a message on today's topics.
We are located at 541 Hwy 59 in Waukesha, Wisconsin.
HAPPENING THIS MONTH
In-person church services have resumed Sunday mornings at 9:00 am. Masks are kindly encouraged but not required.
November 16: Charge Conference 7 pm
November 20: Card Making Class 9 am
November 28: Advent Class begins following worship service
December 4: Hanging of the Greens 9 am
Tuesday Nights: Dartball 7 pm
Wednesday Nights: Handbells 6:30 pm
Choir 7:30 pm
Thursday Morning: Knitting 10 am
Thursday Nights: Zoom Bible Study 6:30pm. Contact the Church for information to join us!
DARTBALL
Dartball season has begun! Games are Tuesday nights. For more information contact Doug Lindsay.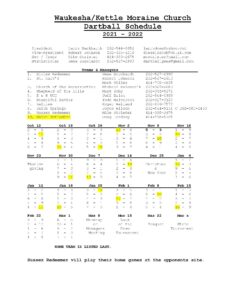 Advent Begins November 28
SUPPORT OUR MINISTRIES
Click here
to see how to donate to Salem United Methodist Church
We are open for live services!
A link to a recording of our current service is below.
You can find past sermons by visiting YouTube. We also invite you to visit our facebook page. Please contact the church via e-mail (pastor@salemonthehill.org) with prayer requests.
If you missed our live service, join us in worship by clicking the link below.
We pray that you find something in this service that will speak to you.
May this service connect us in love, joy and hope.
Reverend Paola Benecchi, Pastor
Come and worship with us and invite family and friends to come with you!
November 7 Matt. 5:1-12, 14-16 Remembering those who let God's light shine through them
Have You Filled a Bucket Today?
This year our season of thanksgiving will be inspired by a children' story that tells us we were all born with an invisible bucket. When our bucket is full, we are happy and when it is empty we are sad. God fills our bucket every day with great blessings. People around us fill our bucket also, with their love and generosity. Through this worship series we have the opportunity to learn how to fill other people's buckets by blessing them with our love and generosity.
November 14 Living the blessed life Psalm 112
November 21 The secret of true blessing Deuteronomy 15:10 and Proverbs 11:24-25
Every year the Christmas season comes to us with a promise of peace. But this year, more than ever, we enter into this season with a great deal of brokenness, division and conflict. How can we find true peace this Christmas? Let us open our hearts to the message of hope of the prophets who announced the coming of the Messiah as the source of peace and reconciliation.
November 28 1st Sunday of Advent Prince of Peace Isaiah 9:2;6-7
December 5 2nd Sunday of Advent Children & Youth will lead the service Holy Communion – Toy Drive
December 12 3rd Sunday of Advent Peaceful Kingdom Isaiah 11:1-9
December 19 4th Sunday of Advent He Will Be Our Peace Micah 5:1-5
December 24 Christmas Eve NEW TIME 4 pm Traditional Candlelighting Peace On Earth Luke 2:1-20
December 26 Carols of Christmas