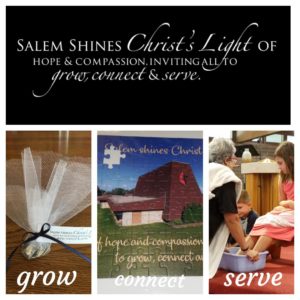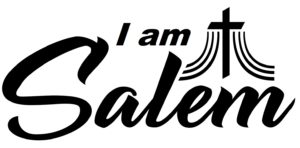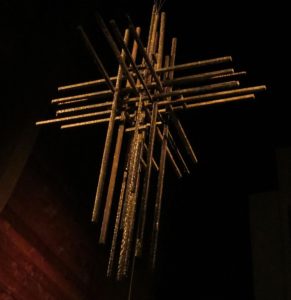 WELCOME TO SALEM!
Sunday Service: please click on the link below for our current worship service.
We are a people of Biblical faith. Our faith is guided by Scripture, tradition, experience and reason. For United Methodists, the Bible is the record of God's people living out God's promise. Join us on Sunday mornings for music, scripture readings and a message on today's topics.
We are located at 541 Hwy 59 in Waukesha, Wisconsin.
HAPPENING THIS MONTH
Regularly scheduled activities below are suspended until further notice:
Wednesday Nights: Handbells 6:30 pm
Choir 7:30 pm
Thursdays: Knitting Ministry 10 am
SUPPORT OUR MINISTRIES
Click here
to see how to donate to Salem United Methodist Church
The Salem United Methodist Church building is currently closed to the public. Our Reopening Task Force is meeting with the goal of planning events, discussing safety and providing vision in preparation of the church reopening, tentatively planned for mid May. Read the Tidings for more reopening information!
We will continue to provide worship and other services in alternative ways.
We invite you to attend our worship service online. A link to our current service is below. You can find past sermons by visiting YouTube. We also invite you to visit our facebook page. Please contact the church via e-mail (pastor@salemonthehill.org) with prayer requests.
Join us in worship by clicking the link below.
We pray that you find something in this service that will speak to you.
May this service connect us in love, joy and hope.
Reverend Paola Benecchi, Pastor
Come and worship with us and invite family and friends to come with you!
April 4: EASTER! – Worship/Celebration of the Resurrection Available on Salem's YouTube channel
April 11:
Native American M
inistries Sunday – Special Speaker Michelle Lacock
Spring Worship Series: "Discovering Joy through Simplicity and Generosity"
April 18: Generosity: Living a Full Life (Luke 19:1-10) YouTube Service

April 25: Simplicity: The Power of Self-Control (Matthew 6:25-34) YouTube Service

May 2: Joy: Finding True Satisfaction Consecration Sunday
(Matthew 13:44-46 & Matthew 6:19-24)
Live Zoom Service, Communion and Drive-thru Commitments