At Salem United Methodist Church, everyone is welcome.
We believe everyone is a beloved child of God.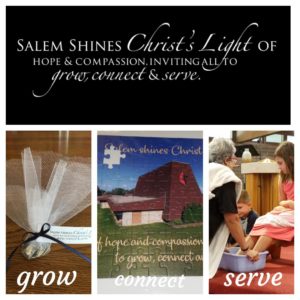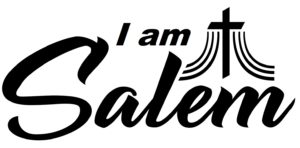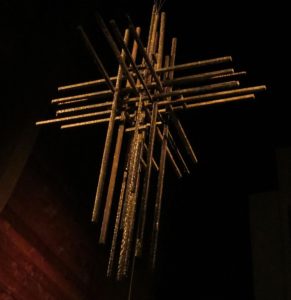 WELCOME TO SALEM!
Sunday Service: 9 am
We are a people of Biblical faith. Our faith is guided by Scripture, tradition, experience and reason. For United Methodists, the Bible is the record of God's people living out God's promise. Join us on Sunday mornings for music, scripture readings and a message on today's topics.
We are located at 541 Hwy 59 in Waukesha, Wisconsin.
HAPPENING THIS MONTH
December 1: First Sunday of Advent
December 3: Dartball at Salem
December 8: Children's Christmas Program 9 am; Cookies with Santa 10:30
December 10: Dartball
December 14: Men's Fellowship Group breakfast at Perkins
December 14: S.A.L.T. Group to attend Bethlehem Live in Hartland
December 17: Dartball at Salem
December 24: Christmas Eve Candlelight Service at 7:00 pm
Wednesday Nights: Handbells 6:30 pm
Choir 7:30 pm
Thursdays: Bible Study 7:30 am
Knitting Ministry 10 am
Connect with us on our social platforms. Stay in tuned with our latest facebook posts.
Give us a call at 262-547-5231.
Send an e-mail to office@salemonthehill.org
Salem is on Instagram! You can follow us at @salemonthehill.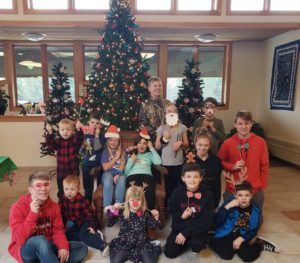 Cookies with Santa
On December 8, our children and youth lead the worship service with the theme: "The Gift We Give"

Following worship, we had a visit from Santa, crafts, games, and of course shared some delicious Christmas cookies!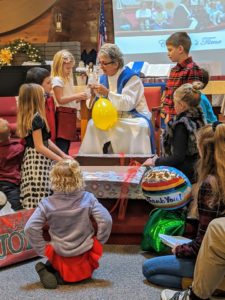 The children give Pastor Paola a gift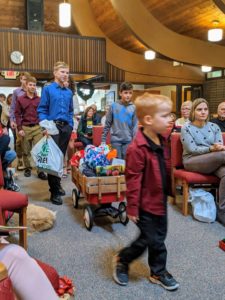 Blessing the toys collected for outreach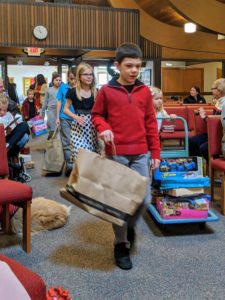 Blessing the toys collected for outreach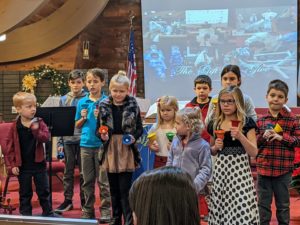 Sharing the gift of music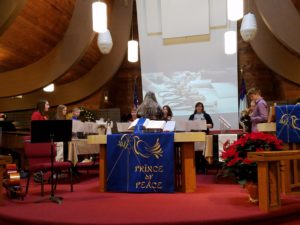 Sharing the gift of music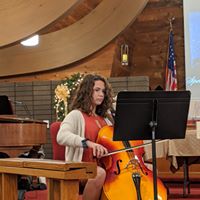 Sharing the gift of music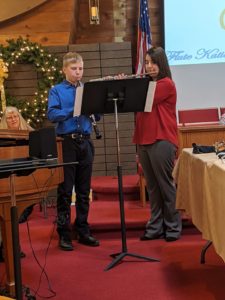 Sharing the gift of music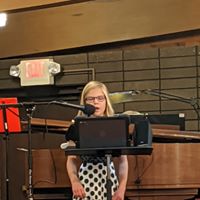 Sharing the gift of music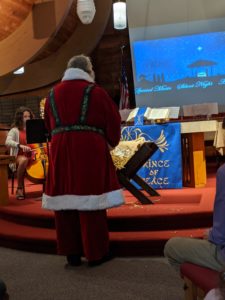 Dartball season is back in full swing! Games are played Tuesday nights at local churches. Contact Doug Lindsay for more information.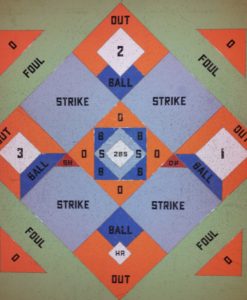 Reverend Paola Benecchi, Pastor
Come and worship with us and invite family and friends to come with you!
Advent and Christmas at Salem

It is gift-giving time. Let's discover the true gift of the season through the prophetic words of Isaiah.
December 1 -Communion. 1st Sunday in Advent. The gift of Vulnerability – Isaiah 11:6-9
December 8 – 2nd Sunday in Advent. The Children and Youth will lead worship! The gift we give. Gift Giving.
December 15 – 3rd Sunday in Advent. The gift of Service – Isaiah 52:13-15
December 22 – 4th Sunday in Advent. The gift of Humility – Isaiah 53:1-6
December 24 – Christmas Eve 7:00 PM. The Best Gift of All – Luke 2
December 29 – First Sunday after Christmas. The Gift of the Magi – Matthew 2:1-16. A Service of Carols
(We will sing along with Christmas carols and will hear the stories behind each carol)
Winter Worship Series January/February 2020
Our mouths were filled with laughter, our tongues with songs of joy. The Lord has done great things for us, and we are filled with joy. (Psalm 126) Let's start this New Year with joy, laughter, love and hope! Open your heart to the to the sermon of the mountain where Jesus teaches us the way to joy even in the midst of sorrow
January 5 (Communion Sunday) Matthew 5:1-4 Humor Have a wholehearted belly laughing

January 12 Matthew 5:5-8 Humility Laugh at the imperfect you

January 19 Matthew 5:43-48 Compassion Let love transform your life

January 26 Matthew 6:9-11 Gratitude Open your heart to gifts
February 2 (Communion Sunday) Matt. 6:12; 14-15 Forgiveness Free yourself from the past

February 9 Matthew 6:19-24 Generosity In giving we receive

February 16 Matthew 6:25-34 Perspective Look at it from a different angle
February 23 Matthew 7:1-5 Acceptance Welcome pain, imperfection, and beauty