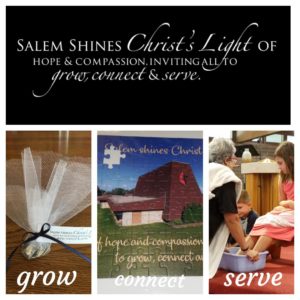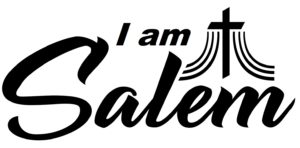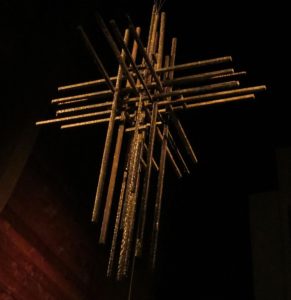 WELCOME TO SALEM!
Sunday Service: please click on the link below for our current worship service.
We are a people of Biblical faith. Our faith is guided by Scripture, tradition, experience and reason. For United Methodists, the Bible is the record of God's people living out God's promise. Join us on Sunday mornings for music, scripture readings and a message on today's topics.
We are located at 541 Hwy 59 in Waukesha, Wisconsin.
HAPPENING THIS MONTH
In-person church services resume May 16 at 9:00 am. Masks are kindly encouraged but not required.
Regularly scheduled activities below are suspended until further notice:
Wednesday Nights: Handbells 6:30 pm
Choir 7:30 pm
Thursdays: Knitting Ministry 10 am
SUPPORT OUR MINISTRIES
Click here
to see how to donate to Salem United Methodist Church
We are open for live services! Read the Tidings for more reopening information!
A link to our current service is below.
You can find past sermons by visiting YouTube. We also invite you to visit our facebook page. Please contact the church via e-mail (pastor@salemonthehill.org) with prayer requests.
If you missed our live service, join us in worship by clicking the link below.
We pray that you find something in this service that will speak to you.
May this service connect us in love, joy and hope.
Reverend Paola Benecchi, Pastor
Come and worship with us and invite family and friends to come with you!
"Behold, I am doing a new thing"

Isaiah 43:19

The end of a pandemic can be a fresh start, an opportunity for reset, growth and change. Lets' discover how God is using this challenging time to bring a new beginning to our lives
June 6 You changed my mourning into dancing: Unexpected gifts Psalm 30

June 13 (Recognition of Graduates) Suffering produces endurance and hope: The lessons we learned Romans 5:3-5, James 1:2-4

June 20 (Father's Day) A friend loves at all times, even in time of adversity: those who loved supported you unconditionally –
Proverbs 17:17 John 15:12-13
June 27 All the believers were united: the power of one another Acts 2:42-47
Jesus' Greatest Talk

Join us as we learn Jesus' secrets to living a good life. Movie clips will help us understand each theme.

July 4 Lay speaker Bill Pardoe "Love your Enemies" Matthew 5:38-48 Remember the Titans

July 11 Communion "First go and be reconciled to those who have something against you" Matthew 5:23-24 Beauty and the Beast

July 18 "Do Not Worry" Matthew 6:25-34 The Wizard of Oz

July 25 "Don't Judge Others" Matt. 7:1-5 E.T. the Extra-Terrestrial