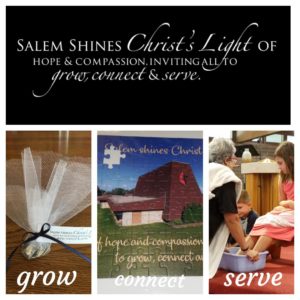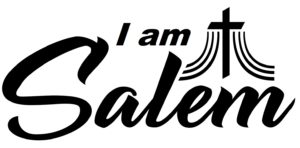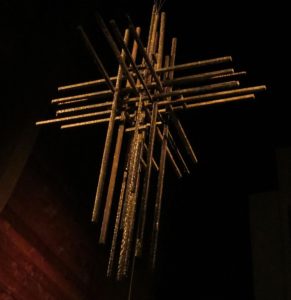 WELCOME TO SALEM!
Sunday Service: please click on the link below for a recorded version of our current worship service.
We are a people of Biblical faith. Our faith is guided by Scripture, tradition, experience and reason. For United Methodists, the Bible is the record of God's people living out God's promise. Join us on Sunday mornings for music, scripture readings and a message on today's topics.
We are located at 541 Hwy 59 in Waukesha, Wisconsin.
HAPPENING THIS MONTH
In-person church services have resumed Sunday mornings at 9:00 am. Masks are kindly encouraged but not required.
September 4-25 Undie Sunday collection
September 18 Fall Kick-Off to Sunday School Picnic and Activities
October 7-8 Youth Retreat at Pine Lake
October 8-9 Waukesha Unlocked
10:00 am – 4:00 pm
October 11 Dartball First Game!
October 19
Chapel Service at New Perspective 11 am
November 23 Thanksgiving Eve service
Tuesday Nights: Dartball 7 pm
Wednesday Nights:
6:30 pm Handbells
7:30 pm Choir
Thursday Nights: Zoom Bible Study 6:30pm. Contact the Church for information to join us!
SUPPORT OUR MINISTRIES
Click here
to see how to donate to Salem United Methodist Church
We are open for live services!
A link to a recording of our current service is below.
You can find past sermons by visiting YouTube. We also invite you to visit our facebook page. Please contact the church via e-mail (pastor@salemonthehill.org) with prayer requests.
If you missed our live service, join us in worship by clicking the link below.
We pray that you find something in this service that will speak to you.
May this service connect us in love, joy and hope.
Reverend Paola Benecchi, Pastor
Come and worship with us and invite family and friends to come with you!
Visit our YouTube page for our sermons
Bridging the Divide: Jesus the Reconciler
Christ lived and died to unite us across all divides, to make us all part of one human family. Yet racial, political, and social divisions
has been escalating out of control in our society with dramatic and paralyzing consequences. Join us for this worship series as Christ calls us to commit ourselves to a life of reconciliation.
September 11
Christ's mission: Unity despite differences – Ephesians 2:13-22
YouTube Link
September 18
God and Justice – Micah 6:8, Isaiah 51:4-5, Revelation 7:9
YouTube Link
September 25
United colors of Christ – Psalm 133:1, Galatians 3:26-29
YouTube Link
October 1
(Worldwide Communion Sunday) All are Welcome at God's Table – 1 Corinthians 11:23-26
YouTube Link
October 8-9 Salem is participating in Waukesha Unlocked! Come visit Salem between 10 am and 4 pm
October 9 Salem Shines Christ's Light of Hope and Compassion Matthew 5:14-16
The Secret of Being Content
October 16 How to Live a Happy Life Philippians 4:4:7
October 23 Rejoicing in God Philippians 4:10-13
October 30 Commitment Sunday Finding Joy at Salem Philippians 4:14-19
November 6 Join us for a special service of remembrance of all the loved ones who have gone back to the Father
Let us dive into the story of Jonah, a prophet who resisted what God asked him to do and ran away.
What happens when we run away from God? Join us during this series as through Jonah we may
discover deep truths about ourselves and our faith
November 13: Fear and Prayer Chapters 1-2
November 20: Courage and Anger Chapters 3-4